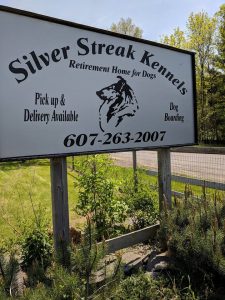 At Silver Streak Kennels we provide long-term boarding options and a gorgeous country retirement home for dogs of all kind. Our goal is to make every dog feel at home and give them the love and care they need to prosper at any age!
We know that dog owners understand how important it is for dogs to receive this dedicated attention and constant affection, but people are often confused about what exactly we do here at Silver Streak. Please continue reading to learn about why we do what we do, and why the dogs that call us home are always thriving!
Your dog will always have plenty of fresh air.
Silver Streak is the imaginary farm upstate you've always heard about come to life! Our facilities consist of a spacious country farm that serves as our own home as well as our dogs'. All of our four-legged residents have constant indoor and outdoor access, leaving them free to roam the peaceful countryside at their leisure. Here, your dog will enjoy a level of independence that just isn't feasible in many individual homes.
Each dog receives individualized nurturing and attention.
The staff at Silver Streak is well-trained and experienced—our owners have spent over 30 years working with senior dogs and tending to their needs. Many dogs are brought to us because they have health issues that require specialized attention, such as daily medications or an environment adapted for limited mobility. We treat every dog as our own and tailor our care to the personality and circumstances of each pup as we would any member of the family.
Long-term boarding offers constant opportunity for social interaction.
Socializing your dog is important at every stage of life. We welcome dogs of all ages from puppies to seniors, giving them the chance to play together and love one another every single day. In fact, many dogs who come to us with anxiety issues soon stop needing their medication because they do so well in our interactive environment! On top of a pool of furry companions, each dog will experience consistent play and love from our dedicated and passionate staff.
Silver Streak affords flexibility for both you and your dog.
Long-term boarding at our facility doesn't have to mean dropping off your pup, saying goodbye, and then never seeing them again! You are always free to visit your dog at Silver Streak or bring them home again. Many owners find that their dogs do so well here, they selflessly decide to bring them back to our low-stress environment after an extended stay back home. Welcome your dog home for good or spend some quality time with him on a mini puppy vacation and then bring him back to his second family at Silver Streak. Whatever works best for you and your dog is what works best for us too!
Learn more about how we can help you and your dog.
If you find yourself in a situation where long-term boarding is the best option for you and your dog, reach out to us here at Silver Streak Kennels. We will be more than happy to put in the time and effort to ensure your dog stays happy and healthy while you're away. With Silver Streak you can trust that you're leaving your best friend in experienced and loving hands!