At Silver Streak Kennels, every dog we host becomes a part of our family, no matter how short or long their stay. Whether it's a few weeks while their owner is away or the remainder of their golden senior years, our dogs are loved and cared for as our own from the moment they arrive until the moment they leave.
While we specialize in providing long-term boarding services for senior dogs, we welcome pups of any age who need a temporary or new permanent home. Our expansive 150-acre property in Morris, NY, is the perfect place for dogs to have fun and frolic freely in the sun and fresh air.
About Our Services
Our long-term kennels and boarding services have been designed around the needs of older dogs, ranging from the smallest pooches to the largest pups.
Just like people, our four-legged family members will eventually begin to enter what we like to call their "golden years" of life. As they age, a dog's needs begin to change—they move a little slower, need help completing simple tasks, and often require extra accommodations to keep them in good health.
Sometimes, as much as they wish they could, owners are unable to meet the growing demands of a senior dog's care. In this case, the responsible choice for your pup is to make sure they have a home where they can receive the love and care they need to fully enjoy those golden years.
Long-Term Boarding for Military Service Members
In addition to our other services, we also offer long-term boarding for military service members. This ensures your dog is well taken care of while you're serving our country. While we are based in Upstate New York, we will take dogs from anywhere for our military service members.
Our Mission
Silver Streak Kennels will provide your dog with the long-term boarding services they need to live out the rest of their years in good health and happiness.
Our mission is to help the dogs we board make the most of their remaining years, however many that may be. When you choose to give your dog a temporary or permanent home at our long-term kennels in Upstate NY, your dog will also enjoy:
A friendly, loving, and welcoming atmosphere that will make your dog feel like a member of our family
150 acres of wide-open fields, trees, and a large pond that will give your dog every opportunity to explore, play, or just lay out in the sun and relax
Direct access to other dogs that are also on the older side and looking for dogs their age to run around and socialize with
Individualized care depending on their needs (medications, special diets, other accommodations)
Although we find that many of our four-legged guests enjoy playing with other dogs, we also understand that some pups prefer to be on their own or need to be separated from companions for health reasons. Rest assured, we also have the space and resources to accommodate the needs and preferences of these dogs as well.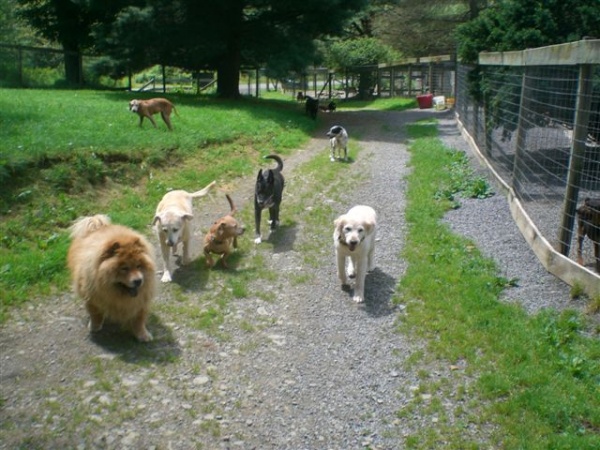 Short-Term and Emergency Dog Boarding
In addition to providing long-term boarding and a loving retirement home for dogs, we also offer boarding services when you need a quick solution for taking care of your pup. Whether it's a quick overnight trip planned in advance or a sudden emergency that calls you away, Silver Streak can help. Our short-term guests can access all of the perks of the farm that our long-term guests enjoy as well.
Browse through the gallery above to see for yourself why dogs (and their owners) love being a part of the Silver Streak Kennels family. Our beautiful countryside farm is filled with love, companionship, and fun— a great place to make some amazing memories. Check out just a few of the dogs we've had the pleasure of hosting and memories we've already made on our property over the years.
For more information on our long-term dog boarding services in Morris, NY, or to inquire about having your pup join our family, give us a call at 607-263-2007 today!
Contact Us Today!