If you or an older person in your life can no longer provide the care your dog needs, Silver Streak Kennels is here to provide your dog with the care they deserve. We have provided the dogs at our facility with a loving home, top-quality and personalized care, and an amazing atmosphere for many years. We would be happy to do the same for your dog.
Dog Boarding Services for Senior Citizens Who Can No Longer Care for Their Pup
There is no shame in being unable to care for your dog anymore, and the right thing to do is set them up with a home that will cater to their every need. When you send your dog to live at Silver Streak, they have 150 acres of rolling hills, green grass, and a pond to spend their days on. Dogs of all ages and personalities love the open space on our property where they can run, roam, play with each other, and breathe in fresh air under the beautiful sun. They also have a warm, comfortable kennel to return to when they get tired and need a break.
Our team members are fellow dog owners and lovers, so senior citizens and their families can feel rest assured their pup's health and happiness are in great hands. We provide top-tier medical services to our dogs and accommodate special needs such as diets, mobility issues, and medications.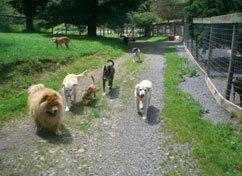 Short-Term, Long-Term & Emergency Dog Boarding Services for Senior Citizens in NY
As we age, urgent medical care options pop up more often. If you or a dog-owning senior citizen need temporary care for your dog as you take care of your own health and recovery needs, we offer short-term, long-term, and emergency dog boarding services to help. Whether you need dog boarding just overnight, for a few weeks, for a few months, or at a moment's notice, your dog will have a home with us.
You are also free to visit your dog whenever you'd like, as we know they will always be a cherished member of your family, even as they're a part of ours. Our facility is in Morris, NY, but we accept dogs from anywhere.
Although you hope that your age will never get in the way of caring for your pup, life has other plans sometimes. Silver Streak Kennels is more than happy to provide a solution when this happens. Contact us about our dog sitting and pet care services for senior citizens today!