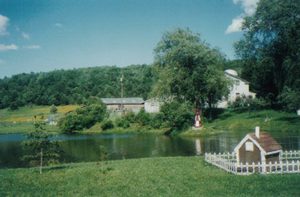 Whether they're roaming around on our 150-acre farm, or playing with their friends, we have so many amazing guests here at Silver Streak Kennels! Some are only here to visit and some we now get to call our own; we're truly a home away from home for dogs.
We wanted to share with you some of the furry friends that brighten up our farm!
First there's Sandy, a white terrier that was rescued from New York City. She was a real fear biter, but given some time, came to find a comfortable home here at Silver Streak. Sandy was so happy to be in the fresh country air with us that her rescuer decided to retire her here to enjoy her golden years.
With the low-stress environment and other dogs to play with, Silver Streak is a good place that a dog like Sandy deserves after taking on the city! The medical care, open spaces and comfortable kennels will give Sandy the finest retirement experience.
Next up there's Jezebel, the Japanese Chin, and Phoebe, the Pomeranian, lounging on the back of the couch. Both of these loyal companions journeyed all the way from Oregon to be with us. Their owners are two teachers who had to teach overseas for a few years. For now, Jezebel and Phoebe are long-term boarders of ours, but their owners will be back soon! Though we'll sadly miss these two, we know that they'll be so excited to reunite with their beloved owners and venture back to Oregon.
Last, but not least is Monkey, a white Pomeranian with a distinctive grey head that helps him stand out. Monkey is another rescue who has made a comfortable home for himself here. He got the name "Monkey" from us because he is always jumping on Terry's back and doesn't seem to like anyone but her! He is simply spoiled rotten, but we wouldn't want to have it any other way.
These dogs, along with the many others that call Silver Streak Kennels home, have become a family second to ours. Whether they are temporary guests or retiring here with us, we have grown fond of them all. It's truly amazing to care for them and make sure they have all the squirrels and squeaky toys they need!