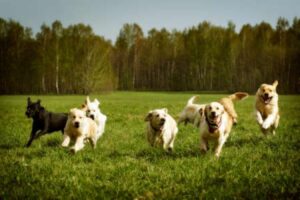 Every dog owner dreams about keeping their special friend close to them until their final days. Unfortunately, that is not always possible. Sometimes an owner is no longer capable of caring for their pet, sometimes the dog just gets too old to live in an apartment building, and sometimes dog owners have to travel overseas for a long period and aren't able to bring the dog along.
In all of these cases, you as an owner have the option to send the dog to a retirement home. But you'll want your furry friend to live out its final days in comfort and happiness, so you can't send it just anywhere. Here's what you should look for in a dog retirement home:
Care
First and foremost, you'll want to be able to rest easily knowing that your dog is being taken care of. The right dog retirement community will have a veterinarian they can bring the animal to if they show signs of injury or illness. Diet is also important – make sure the place you're planning to send them provides the dogs with food that has the nutrients needed for senior animals.
Attentive Staff
You've paid close attention to your dog over the years, so you'll want to ensure that remains the case for years to come. Try to find a place with a good employee to animal ratio. It's also important to make sure that the staff members are qualified and experienced. They should be able to love and care for your dog as much as you did.
The Right Facilities
You shouldn't choose a location until you've had a chance to tour the facility and see how the dogs live. It's not just about them having a nice, clean place to sleep, it's about having enough space. The right location will have plenty of room for your dog to spend outside with its new friends. This is another way of ensuring the dog lives out its final years in comfort.
If you need either long-term care or a retirement home for your dog in Upstate New York, Silver Streak Kennels is the perfect place for your pet. Your dog will receive close attention and whatever veterinary care is necessary. They'll be free to roam in our 150 acres of green pastures. Give us a call at 607-263-2007 to learn more about our services today.