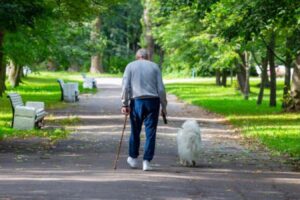 When an individual or a family brings home a dog, they usually have every intention of living with that animal until it draws its last breath. Unfortunately, that's not always possible for one reason or another. Sometimes life throws a curveball and alters long-terms plans we might have made.
In those situations, it's nice to have something to fall back on. In this case, that back-up plan is a retirement home for dogs. These services are generally run by people who love taking care of senior dogs and providing them with the care that they need. Here is some more information to know about these important institutions:
Sometimes Owners Can't Care for Dogs Anymore
It's rare that an owner ever wants to give up their pet of many years, but sometimes circumstances force their hands. Occasionally, a dog owner's financial situation may suddenly change and they're no longer capable of paying vet bills or even simple things like food.
It's also fairly common for senior owners to have some sort of sudden medical issue that prevents them from properly caring for their pet. Sometimes it's the dog that gets older and develops needs that the owner can't meet. In the worst-case scenario, an owner will die and there will be no one available to take on the dog. Sometimes, a dog may never have had a real owner at all and would be better off at a retirement home than anywhere else.
What These Places Provide
Generally, dog retirement homes provide a place for the senior dogs to spend their final days in peace and tranquility, taken care of by a team of professionals that are passionate about animals. They'll get to spend time outdoors with other dogs and will receive the best veterinary care. If you're no longer able to take care of your dog, take solace in the fact that someone else will be able to.
If you need either long-term care or a retirement home for your dog in Upstate New York, Silver Streak Kennels is the perfect place for your pet. Your dog will receive close attention and whatever veterinary care is necessary. They'll be free to roam in our 150 acres of green pastures. Give us a call at 607-263-2007 to learn more about our services today.