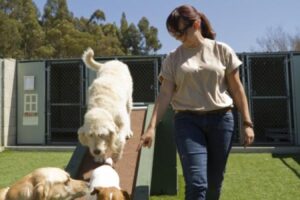 No one wants to be separated from their dog for an extended period of time, but unfortunately it is necessary. There are unavoidable commitments – vacations, out-of-town weddings and funerals, business trips, hospital stays etc. – that will require you put your dog in the care of someone else for a little while.
The good news is there are plenty of kennels that provide dog boarding services available. If you've never sent your dog for an overnight stay before, there are a few things you should do to prepare beforehand:
Be Upfront About All Relevant Info
When you drop your dog off at the facility, it's important to share all relevant information with the staff. This means letting them know about any health issues or special needs. It also means telling the staff if there's any behavior from humans or other dogs that you animal will not tolerate. This will help them prepare for any situation that might arise.
Bring Your Dog to Visit
It's common for an owner to check out a potential boarding facility for their dog before sending them there overnight, but it's important to remember to bring your dog along for the visit. This gives them some familiarity with the facility so that they don't feel that they're being abandoned in a strange place. The visit will also let you know if the dog is comfortable with the facility.
Send Your Dog to Daycare
If your dog already goes to daycare when you're at work or on other occasions, he or she may be better prepared for overnight boarding. If not, consider sending them a few times before your overnight trip. This will get them used to a new location, meeting new dogs and listening to staff members. Plus, it will let them know that you're always going to be back to pick them up.
If you're in need of short-term, overnight boarding in Upstate New York, Silver Streak Kennels is the perfect place to go. When your dog stays with us, he or she will have more than 150 acres of open space to explore and play with other dogs. Our friendly staff will ensure your dog feels right at home. Call us at 607-263-2007 to hear more about our services.