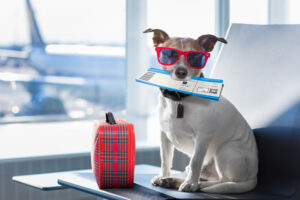 Nobody likes to leave their dog overnight, let alone for an extended period, but sometimes life requires it. Unless you have a trustworthy 24-hour pet sitter on hand, the best option for your pup in your prolonged absence is to leave them in the care of a long-term boarding facility. This way, you'll know they're in expert hands getting plenty of attention, love, socialization, and their needs met while you're away.
Once you've visited a few places and decided on the best facility, it's time to get your dog ready for their own vacation. Make sure these items below are on your preparation checklist, so your dog has a positive boarding experience!
Ensure your pup is up to date on vaccinations and treatments.
Reputable boarding facilities will require that your dog is fully up to date on standard vaccines like rabies, DHPP, and kennel cough. It's also a good idea to check with your vet that they're updated on treatments for worms, ticks, fleas, and any other health conditions. If they're not, schedule an appointment for at least a week before they board.
Pack necessities and a few comforts to take to the facility with them.
Your boarding facility will have everything on hand necessary to care for your dog, especially a long-term facility. However, you will also want to drop them off with certain necessary and comfort items to make sure they're as happy and healthy as possible during their stay. Necessities would include things like their ID, medications, and food if they're on a special diet. Items like their favorite snacks and toys, a familiar blanket, or T-shirt with your smell can also help your pup stay calm and comfortable while you're away.
Keep your goodbye quick.
If you get emotional or anxious at drop off, your dog will pick up on it and may become stressed or fearful. To avoid setting that tone for their stay, try not to give your pup any indication that something amiss is going down. After checking that everything is set with the facility, give them a quick hug or a few pets, then say goodbye and leave without lingering.
When you choose Silver Streak Kennels for your long-term boarding needs, your dog will have 150 acres of beautiful countryside farmland to run, play, and enjoy themselves in your absence. Our dedicated staff members will ensure their every need is attended to and that they are happy, healthy, and thriving for as long as they're with us.
Contact us today to discuss long-term boarding for your pup!