Whether they are enjoying retirement here with us, or are just enjoying a nice, relaxing stay while their owner is away, our Silver Streak guests are the best. We love all of the dogs that have come our way, but it would be selfish of us not to share a few of these friendly faces!
Here are just some of the many wonderful dogs that we have on our 150-acre farm that get to call Silver Streak their home, whether permanent or temporary!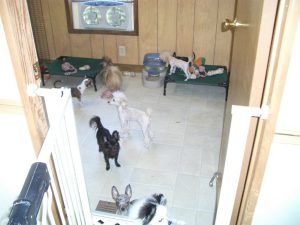 Sweet Snookums is the singing Pomeranian in the front—hard to miss since he is full of energy and always on the go! We got him from Pennsylvania right before he was about to be 'put down' because he is deaf. We rescued the fluffy pup and brought him home to Silver Streak. Now, he's safe and happy with us and has taken to following Terry everywhere she goes! But Terry's not his only best friend…
Laying on the back of the couch is Valentine, Snookums' very best friend! The black poodle goes everywhere with Snookums. When one gets up, the other one follows—it's like they're joined at the hip!
We featured lovable Sandy in our first spotlight on our Silver Streak guests, but she just loves that couch—and the camera, so we had to put her in the limelight one more time! The white terrier is originally from New York City and is now living her best life with us here, retired and relaxing.
The remaining three loyal pups are Trixi, Muffie and Marble. These dogs all came from a very bad place, having spent most of their early lives locked up in a cage and only used for breeding. They have taken refuge at Silver Streak and we are grateful that they're here with us to finally feel freedom and know what being a part of a family is really like.
At Silver Streak Kennels, we offer comfortable short- or long-term boarding and dog retirement to our guests and encourage owners that may not have the time to care for their pup, to let us help! We'll care for your loyal companion and you can visit them anytime you want to!
Our beautiful green pastures have become a permanent home for some, and a home away from home for others. For all of your boarding or dog retirement needs, give Silver Streak Kennels a call at 607-263-2007!