Having to place your dog in a kennel can be stressful for most families, but here at Silver Streak Kennels dog retirement home, you can rest assured that we will love and care for your dogs as if they were our own. All of the dogs that come to stay with us, short term or long term, get treated like family. Also, because of the fact that we specialize in the care of older dogs, we have created a calm, peaceful and loving environment that caters to their special needs.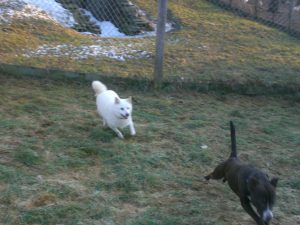 We are certain that many kennels are able to provide the necessary care that most dogs require during their short stay. However, we place our focus on giving your dogs much more than what is simply required. Silver Streak Kennels has a true passion for providing older dogs, and dogs with special needs, with a comfortable environment. Stress of any kind can be harmful to an older dog that needs special care and here at Silver Streak, we have a true understanding of their needs. This is more than just a business for us; it is another home away from home when you can no longer provide your dog with the proper care and attention he needs.
At Silver Streak we treat all of our dogs like family, not just members of a care facility. We provide the best of both worlds; thirty plus years of experience caring for animals, combined with plenty of love and passion for our dogs. We are educated in the specific needs of each animal, which enables us to provide the very best of care at all times.
Whatever the circumstance may be that brings your dog to Silver Streak Kennels, they will receive personalized attention. All of our dogs live in a free and independent environment, among people who are not only qualified to care for them, but who are also dedicated to giving them a very special place to call home for a while.