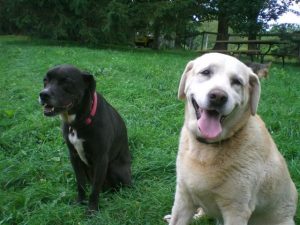 No one ever plans to leave their pet unexpectedly—tragedies and illnesses can happen with no warning, and when they do occur, your pet will be left without a caregiver.
However, you can make a plan for your pet's future without you.
You can ensure your dog's safety in a time of need, and a loving family when you're no longer there to provide it.
Carry a Pet Alert Card
A card completed with all your pet's information and emergency caregivers should be a staple in your purse or wallet.
If there is an emergency and your pet is home alone, they won't be for long when you are equipped with a Pet Alert Card. It has all the information someone would need to contact an emergency caregiver so that you can focus on getting better, instead of on what will happen to your beloved furry friend at home.
Ensuring long-term care for your pet
A Pet Alert Card can only go so far; it's essential that you think long-term. If you were to ever fall ill or pass away, what would you like for your pet's future?
Choosing a new guardian
One option is to select a family member or friend that will could care for your four-legged friend when the unexpected happens. They should have a good relationship with your pet already established and be willing to care for them, giving them the unconditional love and support they need.
You will definitely want to make plans in your will for your dogs as most relatives are not prepared to take on the extra burden of another dog and can suddenly become stressed about what to do or where to turn.
Setting up a pet trust
In New York State, we are lucky to have legal support in the planning of a pet's future. Section 7-8.1 allows you to create a pet trust, including in your will a formal arrangement for your pet if you should pass. This will ensure that your furry friend won't be left alone or taken to a shelter. Instead, you can choose for your furry friend to go to a retirement home, the perfect countryside palace that will let them live out the rest of the years with excellent quality of life.
At Silver Streak Kennels, we urge you to plan for the unexpected. We know that some of our dogs at Silver Streak may have lost their owners, but they were given the support and care they needed to create a new home here with us. Guarantee that your pup continues to receive the love and care they deserve by planning today!