At our long-term dog sitting and retirement home in Upstate New York, we have the most loving and playful companions. Instead of keeping them all to ourselves, we wanted to share some of the senior dogs that have given our 150 acres of green pasture a true purpose!
Here are some of our beloved dogs that have found their temporary boarding or permanent home with us at Silver Streak!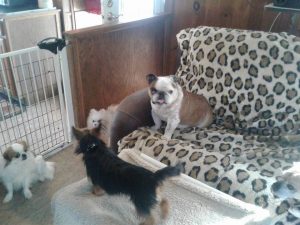 The solid French Bulldog that you see perched on the couch is Paco. Although he suffers from hip dysplasia, Paco doesn't let anything keep him down, except for the several stairs and elevators he faced in his hectic city life. Now, the Frenchie is here with us, enjoying his retired life cuddling with his friends.
Snuggled up close to Paco is Riley, a dachshund who has been a resident here for several years now with her partner in crime, Cody. Cody is a 16-year-old dachshund, but that doesn't hold him back from playing with his pals! Both Riley and Cody love every dog and human that walks through the door and always look forward to springtime when they can go outside in the grass and fall asleep under the sun's warm rays.
Last, but certainly not least, are the two furry friends in the middle of the pack. Millie, the 17-year-old Jack Russel Terrier and Roo, the tiny, but fierce Chihuahua just arrived at Silver Streak. They were suffering from anxiety due to a sudden change in their life styles but are finding themselves much more comfortable in our low-stress environment. Both Millie and Roo have made new friends and a new place to call home.
Whether you are in search of short-term, long-term or emergency dog boarding, Silver Streak Kennels has everything you need.
All of our dogs can come and go as they please, from the fuzzy carpets and beds in our house, to the fresh air and soft grass around our property. Some of our dogs have made a permanent home here with us and some are just here for a short while, while their owners are abroad, but all of our dogs are loved and cared for as if they were always ours to own. Give us a call at 607-263-2007 to learn more about dog retirement and boarding at Silver Streak!