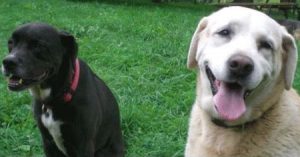 People welcome retirement with open arms and excitement after a long life of working hard and enduring the stresses of everyday life. Retirement brings new adventures, less stress and a much-needed chance to unwind and relax. After years of trying their best to protect and love you to their fullest, dogs also deserve a happy, healthy retirement. Dog retirement is very similar to your retirement – here's how!
Dogs Receive High-Quality Care
As we get older, we require more care and attention to our health. Maybe we choose to live in a retirement community or enlist the care of our adult children to help us keep our medicines and appointments straight. The same goes for dogs. Aging dogs can need special medical attention and increased care in their older years. As they age, different conditions and issues come up that they need help managing.
At Silver Streak Kennels, a retirement home for dogs, every dog is treated like a guest, where caretakers are specially equipped for the needs of senior dogs, including medical services. Dogs, like people, deserve the best in high-quality care during retirement, and they'll receive it with us.
Dogs Participate in Activities They Enjoy
When we retire, we try to take some time to participate in activities we now have the time for. Whether these are hobbies, old favorite pastimes or new endeavors, we can now put our energy into these activities and enjoy them. When dogs retire from their days of watching over the family, they too take the time to do what they love – run around, play fetch, interact with other retired dogs, etc. In essence, dogs, like people, take the free time they now have to enjoy the simple pleasures in life.
Dogs at Silver Streak Kennels have access to our 150-acre property with plenty of open space to roam and explore, giving dogs plenty of opportunities to enjoy their daily activities.
Dogs Enjoy a Calm, Low-Stress Environment
After retirement, some people downsize to save money or for reasons of practicality. Some people decide to move to retirement communities or to different locations that offer a more relaxed, laid-back environment. Dogs also deserve a calming, low-stress environment for their years of retirement.
Whether they lived in the city and endured grueling apartment life or lived a ranch life on a farm or large country estate, retired dogs are sure to enjoy relaxing in the great outdoors at Silver Streak Kennels. Our country setting provides a beautiful landscape full of tress, grass and rolling hills for dogs to retire in.
Dogs Seek a Sense of Belonging
Retirement can prove difficult for many people – maybe we weren't ready to retire, we loved our job, or we feel displaced. For some, retirement can make us feel left out or like we no longer belong to the community of workers where we once roamed.
Dogs also want to feel like they belong in their retirement, and there is no better way than for them to settle into a retirement community that exudes love and a family atmosphere. Our welcoming environment means that your dog will be brought in as a member of the family, and they will be comfortable and happy with us.
Silver Streak Kennels provides everything your dog needs to happily live out their golden years. To learn more about our dog retirement home or our long-term boarding options, call us today at 607-263-2007 or send is an email at silverstreak@frontiernet.net.