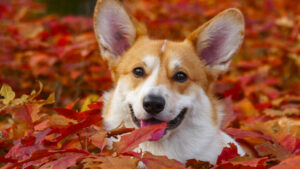 Even though many of us are still enjoying long days, warm temperatures, and plenty of sunshine, the fall season will descend upon us here in the Northeast before you know it. In the blink of an eye, the leaves will start changing, the sun will set earlier, and you'll be needing your jacket when you head out the door. For dog owners, that means the time to start preparing for your pup's fall and winter needs is now!
As you're digging out the autumn décor and your cold-weather wardrobe, keep these tips in mind to ensure the rest of the year is happy and healthy for your dog too!
1) Get ready for cold-weather walks.
Gradually, the coming days will get cooler and shorter. To keep them warm and safe, stock up on what your dog will need to be comfortable outside now. This includes a sweater or coat (or allowing their natural coat to grow out), a reflective leash or collar for shorter, darker days, and booties or moisturizer to protect their paws.
2) Be aware of fall health hazards.
With every season there comes different risks for your dog that you must be alert to. In the fall, be on the lookout for outdoor hazards such as ticks (yes, they are still out and about), wildlife prepping for hibernation, seasonal mushrooms, rodenticides, antifreeze (as it gets colder), and falling fruit. When you're hanging out indoors, make sure your pup doesn't get into seasonal decorations, holiday foods, or any cold and flu medication.
3) Adjust their food, if necessary.
As temperatures cool, your dog's body will need more calories to burn to keep warm. To meet this need, you may have to increase their food intake or adjust their macronutrients, especially if you have a senior dog. Ask your vet now about whether you should prepare to make any changes to your dog's diet in the coming weeks.
4) Make arrangements for the holidays now.
The upcoming months will likely include a fair amount of travel and/or hosting guests in your home. Plan ahead for what you will do with your pooch now to make sure they have the best care when the time comes. Start making arrangements with pet sitters, dog walkers, or calling boarding facilities to make reservations before the season gets busier.
Do you have plans for the busy holiday season that will prevent you from giving your dog the care and attention they need and deserve? Silver Streak Kennels is here to help! We offer short-term, long-term, and emergency dog boarding at our countryside farm in Upstate NY. Whether you just need someone to look after your pup for a night, a week, or the next few months, you can rest assured we will treat them as if they were our own for their entire stay.
Contact us today to discuss your dog boarding needs!